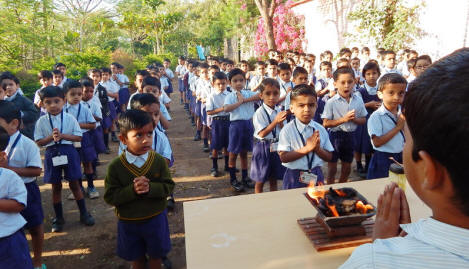 Each morning the Tapovan English School starts with a Homa Fire. The children know the Mantras by heart. Afterwards the daily routine starts.
The manager, Shreekant Paranjpe, was happy to receive Prof. Abel's support with the YYMM (Yoga-Yajnya-Mantra-Meditation) program to bring better understanding and more family-style interactions.
This private school has nursery, kindergarten, 1st and 2nd standard. If we want a better society with loving and caring people, the teachers are good examples for these formidable children, who just copy what they see.
| | |
| --- | --- |
| Truthfulness, forgiveness, compassion, Ahimsa (non-violence), Fearlessness, etc. are mentioned in the Ch. 16 of Bhagavad Geeta as attributes of the Wise. | |
This is the stuff of what a healthy and caring society is made. Children are just a mirror.
Since the school is constructed in the Tapovan Homa farm (under the influence of Agnihota and 24-hour Tryambakam Fire) the YYMM program has almost immediately shown wonderful results in teachers and students.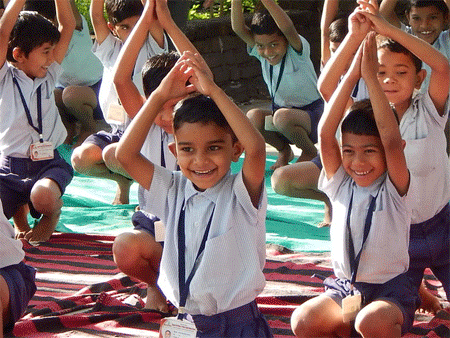 (see photos where children are disciplined with love and learn to be happy.)
Under the shade of a big, old Neem tree, the YYMM classes continue on a daily basis. The teachers take videos of the program. They participate actively and it seems that a new wind is blowing. There is a wind of cooperation, fearlessness, happiness, and freedom – it's the wind of LOVE.

This program not only makes us strong in body and mind, but also it opens the heart. How many intelligent, well educated and wealthy people are honest, happy, healthy, etc.? Just studying and good grades are not a license to happiness.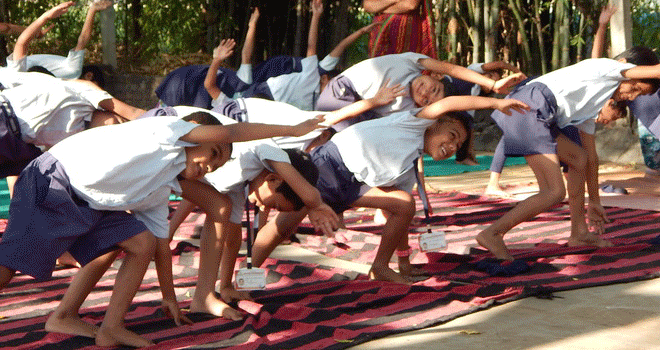 So wonderful to see happy children, developing their potential to the fullest – in body, mind and heart in a place, where they spend most of the time – the school.

So wonderful to see strong, firm, clear, self-disciplined and loving teachers with the capacity to embrace all the children as their own. Practice YYMM and experience the change.